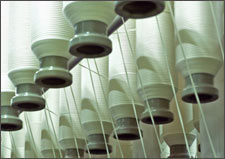 If you can dream it we can develop it and bring concept to reality

Allow our team of designers and engineers to be an extension of your solution and rely on our manufacturing expertise.

Within our infrastructure rest assured, BMA has the equipment, talent and manpower to take your project from concept through production.

We are housed in 270,000 sq foot facility.  This allows us to accommodate our in house production and offer value added inventory storage for our customers.
---
DIE CUTTING

FLAT BED
Up to 64" wide
In-line Waste Removal
Tight Tolerance
In-line Adhesive Laminating
Individual Pieces, Pads and Rolls

ENGINEERING SERVICES

Jigs, Fixtures and Assembly Aids
Die Design, Fabrication and Repair
Cost Down Alternatives
Rapid Prototyping
Reverse Engineering
Part Nesting Software
Process and Cost Development
Converts Most CAD Formats

FABRICATION

CNC Milling
CNC Turning
Grinding
Broaching
Boring
Bending
Lapping
All Types Of Steel
Castings
Plastics

VALUE ADDED CENTER

Just in Time Inventory
Customer Inventory Warehousing
Bag and Tag
Part Marking
Hand Assembly
Ultrasonic Welding
Vulcanizing
Custom Packaging
In-House Graphic Design



MATERIALS USED


Fiber denier ranging from 1.5 to 400 and weights from 4 oz to 50 ounces

3M™ Dual Lock™ Re-closable Fasteners
3M™ Scotchmate™ Hook and Loop Fasteners
3M™ Thinsulate™ Products
3M™ VHB™ Tapes
Acrylic Adhesives
Rubber Based Adhesives
Bisco® Silicones
Butyl
Cellulose Fiber
Closed Cell Sponge
Cork
Diaphragm Sheet
Electrical Insulation
EPDM (Ethylene Propylene Diene Monomer) Rubber

EPT (Ethylene Propylene Terpolymer) Rubber
EVA (Ethylene Vinyl Acetate) Rubber
Felt
Fiberfrax® High Temperature Ceramic Fiber
Fiberglass Cloth
Graphite
Gylon®
Hypalon® Chlorosulfinated Polyethylene
Mylar® (A Flexible Polyester Film)
Natural Rubber
Neoprene

Nitrile Rubber (Buna-N)
Non-Asbestos Sheeting
Open Cell Foam
Polyethylene (Same As Polyethene)
Polyurethane
Poron® Urethane Foams
PTFE (Polytetrafluoroethylene)
PVC (Poly Vinyl Chloride) Foam
Red Rubber
Reticulated Foam / Filter Foam
SBR (Styrene Butadiene) Sheet And Sponge
Silicone Sheet And Sponge
Thermoplastics / Santoprene™
Velcro® Products
Viton®

FOAMS


Crushed Foam, ECH (Epichlorohydrin), EPDM, EVA (Ethylene Vinyl Acetate), LDPE (Low Density Polyethylene), Neoprene, Polyethylene, Polyurethane (Open Cell,) Poron® (Cellular Urethane), PVC /NBR, Reticulated / Filter, Silicone, Sponge (Hydrophilic and Hydrophobic), Volara® (Cross Linked Polyethylene)

RUBBER


Buna-N, Butyl, Coated Fabrics, Cork / Rubber Composites, EPDM, EPT (Ethylene Propylene Terpolymer), EVA (Ethylene Vinyl Acetate), Gum, Kalrez™, Molded and Extruded, Natural, Neoprene, Nitrile, PVC, Red Rubber, Santoprene™, SBR (Styrene Butadiene), Silicone Viton®

APPLICATIONS
Acoustical Insulation, Anti-Fogging, Anti-Squeak and Rattle, Anti-Static, Attachment Systems, Barrier Shield Bonding Solutions, Cushioning Diaphragms, Door Seals, Dust Barriers, Enclosure Seals, Electrical Insulation, EMI-RFI Shielding, Environmental Seals, Filtration Products, Flame Retardant, Fluid Control, Gaskets, LED Diffusers, LED Reflectors, Lens and LCD,Medical Sterilization Products, MIL Spec / ASTM Rated, Noise Control, Non-Skid, Paint Masking, Pressure Sensitive Tapes, Protective Masking, Re-Closable Fasteners, Sealing Seating, Shims and Spacers, Shock Absorbing Sound Management, Surface Protection, Thermal Management, Traction Enhancement, Vibration Dampening, Water Vapor Control, Weather Stripping, Window Sealing, Zoned and Back Slit Adhesive.

---

Contact:





661 Plaid Street
Burlington NC 27215
(336) 261-6908




Copyright © 2016 BMA